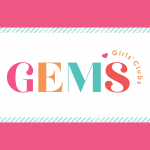 G.E.M.S. stands for Girls Everywhere Meeting the Savior.
G.E.M.S. Girls' Clubs is a non-denominational, non-profit, Christian organization that seeks to equip women and girls to live radically faithful lives for Christ. G.E.M.S allow women to mentor girls as they develop a living, dynamic relationship with Jesus. G.E.M.S. welcomes girls of all backgrounds into a safe and nurturing environment to learn and grow as they discover who God created them to be. Clubs are offered in local churches and Christian organizations throughout the U.S. and Canada and 15 other countries.
G.E.M.S at Central Avenue Church is for girls in 1st through 8th grades. All girls are welcome! We spend our regular meeting time in Bible study and working on service projects such as "Operation Christmas Child", sending cards to shut-ins and crafts. We meet upstairs in our Ministry Center located at 245 Central Avenue in downtown Holland – across from Centennial Park on the corner of 10th Street and Central Avenue. Our theme this year is "LOVED" and the base verse is 1 John 3:1, "See what great love the Father has lavished on us, that we should be called children of God! And that is what we are!"
Please contact head counselor Lisa Mast with any questions.
2019-2020 Schedule Specified Wednesdays from 6:30-8:15 PM. Meet upstairs of Ministry Center (unless otherwise noted). All girls in 1st through 8th grade are warmly invited. Friends are always welcome to attend too!

Wednesday 9/18 – Kick-Off Meeting BEGINS @ 6:00 PM - Followed by brief parent meeting @ 8:00 PM
*Wednesday 10/2 - Regular Meeting
*Wednesday 10/16 - Regular Meeting
*Wednesday 10/30 - Regular Meeting
*Wednesday 11/ 13 - Regular Meeting
*Wednesday 12/ 4 - Regular Meeting
Wednesday 12/18 - Christmas Party
*Wednesday 1/8 - Regular Meeting
*Wednesday 1/22 - Regular Meeting
Wednesday 1/29 - SWIM NIGHT (Pick up/Drop off @ Holland Aquatic Center)
*Wednesday 2/5 - Regular Meeting
*Wednesday 2/19 - Regular Meeting
Sunday 2/23 - GEMS Sunday (Service TBD)
*Wednesday 3/4 - Regular Meeting
*Wednesday 3/18 - Regular Meeting
Wednesday 3/25 - Final Night / Points Store

*Denotes Family Meal Nights. You are welcome to join us in the Fellowship Hall from 5:30-6:30 for dinner!
~ Schedule subject to change. A final schedule will be handed out